Dr. Sherket B. Peterson Scholarship for Research & Innovation Opportunity
Sep 29 2023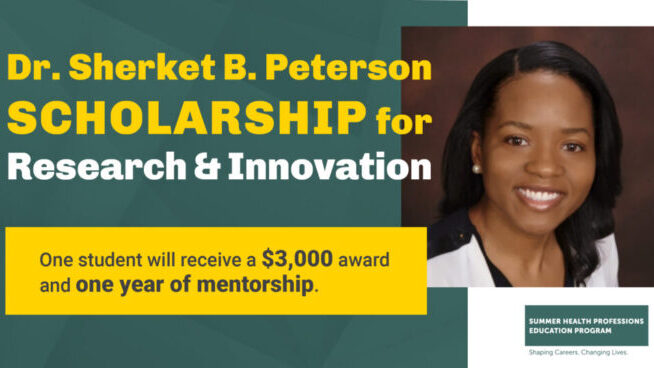 Dr. Peterson, a Minority Medical Education Program (MMEP) alum, is excited to offer a scholarship opportunity to Summer Health Professions Education Program (SHPEP), Summer Medical and Dental Education Program (SMDEP), Summer Medical Education Program (SMEP), and MMEP alums! With the support of the ADEAGies Foundation and the Summer Health Professions Education Program, the Dr. Sherket B. Peterson Scholarship provides financial support in the form of a $3000 scholarship and mentorship to further the education of historically underrepresented students in health-related careers. The scholarship honors program alums interested in pursuing a career in a field that will enhance health research or innovation with the potential to impact the world.
Award
One student will receive a $3000 award and one year of mentorship. A portion of the award, $2500, will be distributed to the awardee's U.S. college or university on their behalf for tuition expenses, and $500 will be distributed directly to the awardee for other educational expenses such as books and/or laptops, grad school applications, etc.
Eligibility Requirements
An applicant must:
Be enrolled as a full-time student at an accredited U.S. college or university and have completed at least (2) two years of undergraduate studies (rising juniors and above).
Maintain good academic standing.
Identify with a racial or ethnic group historically underrepresented in health careers.
Have completed the SHPEP, SMDEP, SMEP, or MMEP.
Demonstrate a drive to succeed in pursuing a health career, leadership, and/or passion for creating change in their community as evidenced by a record of activities or accomplishments.
Demonstrate a commitment to advancing new ideas, concepts, approaches, policies, programs, technologies, potential treatments, or products that improve health and reduce health disparities.
Application Process Checklist
Applicants must submit the following items by 11:59 p.m. Eastern Time on November 2, 2023.
Completed scholarship application and short-answer responses.
A letter of recommendation from a faculty member or mentor addressing the candidate's experiences and qualities that align with the eligibility criteria.
A current curriculum vitae or resume.
Unofficial transcripts obtained from the candidate's school registrar verifying academic standing