Alumni Scholarships
Rubens J. Pamies, MD, Opportunity Fund
Application Opens in March 2023
The Rubens J. Pamies, MD, Opportunity Fund was established to provide financial assistance to alumni of the Summer Health Professions Education Program (SHPEP) who are applying to professional or graduate schools. Scholarship recipients can use the funds to cover such expenses as application fees, exam fees, admission test preparation courses, or costs incurred to travel for interviews.
Every year, four (4) outstanding applicants are selected to receive a scholarship award of $500 from the scholarship fund to offset the costs of applying to professional and graduate schools. Awardees can use the funds for expenses including but limited to:
Application fees
Admission test preparation courses (e.g. MCAT, DAT, OAT)
Travel expenses for interviews
Examination fees
To be eligible for the scholarship, applicants must be an alum of the program (SHPEP, SMDEP, SMEP, or MMEP) and be in the process of applying to a health professions school.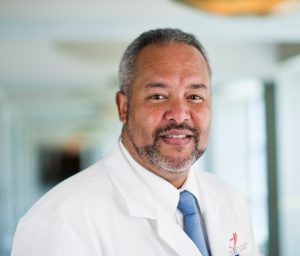 The scholarship fund was named after the late Dr. Rubens J. Pamies to honor his work in eradicating health disparities and increasing the number of students from racial and ethnic groups that are underrepresented in medicine. Dr. Pamies served as a mentor and role model for many students who participated in the program. The Scholarship serves as an expression of the alumni's gratitude for his contribution to ensuring the success of underrepresented students within the health professions, his tireless efforts to eliminate health disparities, and his many charitable efforts within his community.
We have received over 850 applications since the scholarship first opened 5 years ago. The ability to continue and expand the Pamies Scholarship would be a continuation of Dr. Pamies' legacy. Your support of this fund is genuinely appreciated. It will go a long way toward providing financial assistance to deserving students who have demonstrated financial need. It may be possible for you to double or triple your impact if your company has a matching gift program. Please check with your human resources department to see if they match tax-deductible gifts.
The Rubens J. Pamies, MD, Opportunities Fund is a 501(c)(3). Your donation is 100% tax deductible.
Dr. Sherket B. Peterson Scholarship for Research & Innovation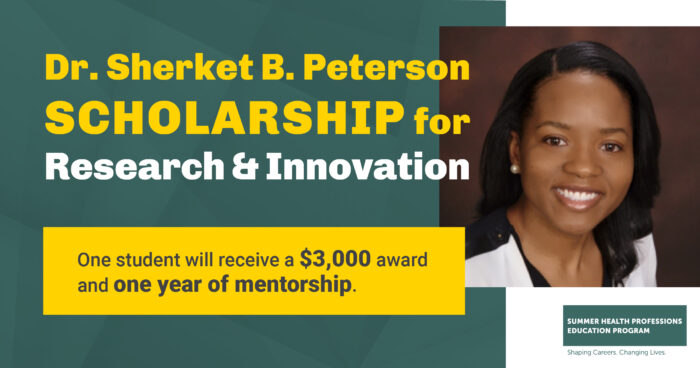 Sherket B. Peterson, PhD, a Minority Medical Education Program (MMEP) alum, is excited to offer a scholarship opportunity to Summer Health Professions Education Program (SHPEP), Summer Medical and Dental Education Program (SMDEP), Summer Medical Education Program (SMEP), and MMEP alums! With the support of the ADEAGies Foundation and the Summer Health Professions Education Program, the Dr. Sherket B. Peterson Scholarship provides financial support in the form of a $3000 scholarship and mentorship to further the education of historically underrepresented students in health-related careers. The scholarship honors program alums interested in pursuing a career in a field that will enhance health research or innovation with the potential to impact the world!
Award
One student will receive a $3000 award and one year of mentorship. A portion of the award, $2500, will be distributed to the awardee's U.S. college or university on their behalf for tuition expenses, and $500 will be distributed directly to the awardee for other educational expenses such as books and/or laptops, grad school applications, etc.
Eligibility Requirements
An applicant must:
Be enrolled as a full-time student at an accredited U.S. college or university and have completed at least (2) two years of undergraduate studies (rising juniors and above).
Maintain good academic standing.
Identify with a racial or ethnic group historically underrepresented in health careers.
Have completed the SHPEP, SMDEP, SMEP, or MMEP.
Demonstrate a drive to succeed in pursuing a health career, leadership, and/or passion for creating change in their community as evidenced by a record of activities or accomplishments.
Demonstrate a commitment to advancing new ideas, concepts, approaches, policies, programs, technologies, potential treatments, or products that improve health and reduce health disparities.
Application Process Checklist
Completed scholarship application and short-answer responses.
A letter of recommendation from a faculty member or mentor addressing the candidate's experiences and qualities that align with the eligibility criteria.
A current curriculum vitae or resume.
Unofficial transcript(s) verifying academic standing.
Application Deadline
The application is now closed. The winner will be announced on November 4, 2022.
The Dr. Sherket B. Peterson Scholarship for Research & Innovation Fund is a 501(c)(3). Your donation is 100% tax deductible.